Little Trinkets
Ooh honey buns,
I've been working at my wee sewing table surrounded by all the junk I've collected over the years. There's nothing more liberating than dropping bags and bags of treasures at a charity shop. I can walk away from most of my material items, and often have, but there are a few things that I'll never live without....
Like my little treasures... I have a few pretty books from my late grandfather. He was a writer and geographer, I'm not sure if that relates to me, I never think of myself as a writer but scientist, totally. This book of his, The Garden, The Grove and The Field is a beautiful gardeners guide, filled with poems for the seasons, songs scores, advice on how to care for your roses, it's just too beautiful. What makes it extra special are Grandpa's notes on the pages, a real little treasure.
The Wade Fawn lives at the bottom of my handbags, it goes everywhere with me, just a little token. Kinda like the bear from IB, when I travel I take the bear, a notebook and a candle, having a little collection on the bedside table makes a hotel room home.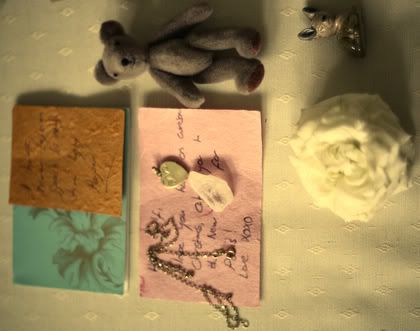 Other little trinkets include reminders of my favourite places. Stones from the desert, receipts from cities, and little things like..... Also roses, dammit I have so many roses! I love miniature patio roses in my window <3
Are there any little things that you treasure?
All my love
xoxo