Cash for Silver
Hello loves,
It's all jokes, I wouldn't get rid of my chunks of metal for all the absinthe in the world. I do love my silver, and... the bigger the better! My giant rings are my accessories, never mind silly contrived jewels, I like aggression and vulgarity in my pieces. I collect rings from my favourite places. The giant liney one was Bolivia, the mother of pearl from when I lived in Buckinghamshire, the smokey quartz from Evora in Portugal, the Fairy from Paris, and pfff I have heaps more from lots of different cities!
I also have alot of crosses. Why? I have no idea. I have one from my South African grandparents from when I was a wee sprog, I keep it close, often by my bed at night. I believe in myself and the goodness of others, that's enough.
Also silver charms, again, the bigger the better!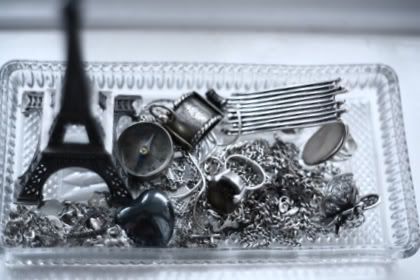 All my love
xoxo