Bridport Hat Festival
Hello loves,
Well! As I'm sure you can tell by my lack of posts, I've been crazy busy - the story of my life. Anyway, I want to share with you my weekend on the South Coast where a tiny few of my family live still.
So I packed up some gorgeous festival outfits, my L series lens and the finest fascinators. Along with a few lovelies and a carload of chocolate cake thanks to the Barnes Bistro of course.
We headed down to the South Coast where my Uncle and Gorgeous Aunt were throwing the
celebrating headwear from all over the globe.
Below I have posted just a few of MANY images, the rest of which you can find here:
Bridport Hat Festival Flickr Group
The Bridport Hat Festival Facebook Group
The Bridport Hat Festival Website
The fantastic part of this all was the excitement around the town, it was a bright sunny day and people came out by the thousands wearing fabulous outfits topped with perfectly coordinated and individual hats and fascinators.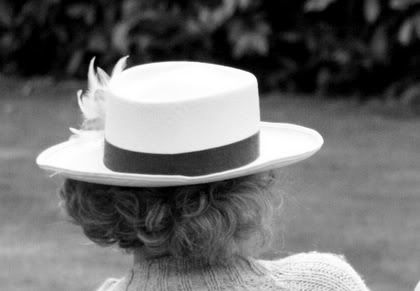 I couldn't get over how timelessly elegant this lady below looked. She was so composed and her piercing blue eyes perfectly complimented her bright bright hat.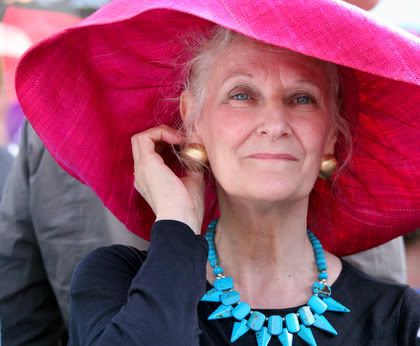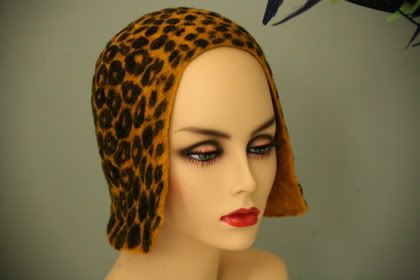 It was fantastic to see so many smiling faces and hear so much laughter at the Bridport Hat Festival, the live bands and fantastic coordination really brought the little seaside town out.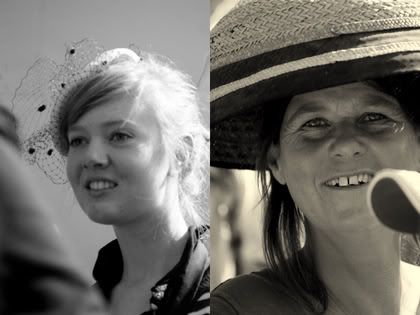 This gentleman, like the lady in pink, really stood out, a nice crisp fedora and a suit, utterly perfect.
Breakfast anyone? There was a competition running for the best handmade hat, I'm not sure who won in the end but the breakfast piece really stood out!
Blue eyes, I need more models with blue eyes! They come out beautifully. This lady was accosted by myself, my Momma and my FairyGodMother but didn't notice us standing there advising "oh fabulous," "what a great pose" but she really did a great job in customising her hat! Really fabulous.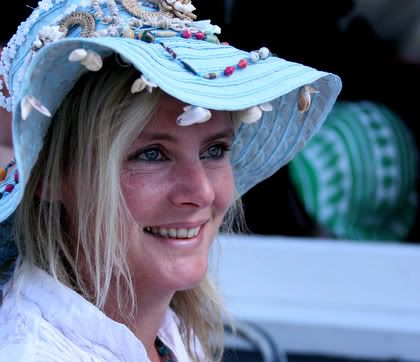 The Hat Shop itself. T Snook was founded over 100 years ago, quite fun.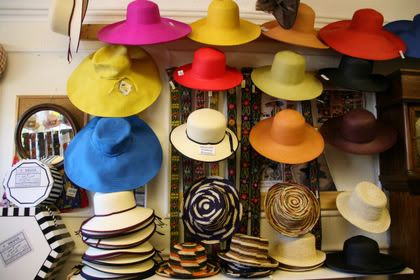 One of the lovely lovely ladies, Sandy, from the shop. The wonderful thing about the T Snook Girls is that they are so sincere. Hats do not suit everyone, and these ladies will really find the perfect piece for you.
There was around 12,000 who came out to celebrate on the Saturday, the town was rammed with a sea of colours, textures, and hats of all sizes! My favourite toastmaster was fabulously coordinated.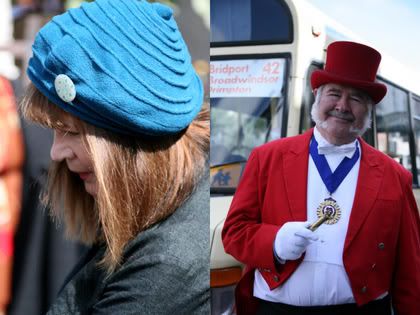 And with the L Series, my FGM and Momma hadn't realised they'd brought the paparazzi with, the poor things couldn't shop in peace.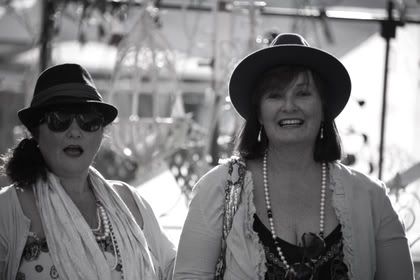 ... and there was much shopping to be done, it was market day in the town and the antique market was endless with wonderful finds.
And these are the Mad Hatters themselves with SeeSee and I. Fabulous day.
There'll be lots more reviews on peoples festival outfits, the other wonderful hat companies involved, and the stores who were there on the day!
You can keep up to date on posts via: